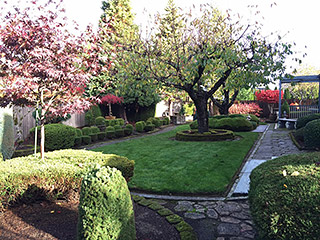 Flower and garden beds are some of the most neglected aspects of a landscape. Most people focus most of their attention of lawns because they're the most visible features of the landscape. If you want your flowering, fruit plants, and herbs to thrive, you need to care for the bed and ensure it's healthy. At Greenworks Landcare, we have helped property owners maintain their flower beds and gardens on their properties in Salem, Keizer, Dallas, Independence, and Monmouth. We also have worked in Corvallis, Albany and Silverton, Oregon. Our expert landscapers are familiar with different kinds of plants and can help create the ideal conditions for them to grow.
What's Landscape Bed Care?
Landscape beds are the foundation for your lawns, plants, shrubs, trees, etc., so they need to be maintained well. This can be a massive undertaking so it's a good idea to hire a professional to handle landscape bed maintenance. We have a comprehensive plan in place to ensure your landscape remains healthy and provides a good environment for plants to grow:
Removing Debris – Debris can stifle the soil and attract insects and weeds. As part of our bed care services, we remove all traces of debris and ensure the bed is completely clean. This would help facilitate plant growth and germination of seeds.
Adding the Pre-Emergent Herbicide – Ideal growing conditions don't just help plants, but also encourage weeds. We apply a pre-emergent herbicide to control the spread of weed to the flower bed.
Mulching – Mulch forms a protective barrier between the soil and the environment. It helps the soil retain moisture, keeps it cool, and provides nutrition.
Cleaning Dead Plants – It's never a good idea to let dead plants sit in the soil. This doesn't just have an impact on the aesthetics of your landscape bed, but can also have an impact on the health of the surrounding plants.
Weeding – Some weeds can grow despite the pre-emergent treatment so we apply post emergent treatment to them to eliminate them entirely.
Landscape Bed Care is included in our landscape maintenance program. If you want to know more about our landscape maintenance programs, don't hesitate to contact us at Greenworks Landcare at 503.303.8368. We'll be happy to help in every way possible.