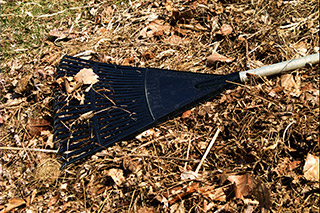 Foliage is beautiful to watch but a nightmare to clean, especially if you have tall trees with expansive branches in your backyard. You might not mind cleaning the leaves a few times in the beginning of the season, but after a while the chore becomes tedious. At Greenworks Landcare, we have helped with leaf cleanups during fall on a lot of properties in Salem, Keizer, Dallas, Independence, and Monmouth.
Our clients in Corvallis, Albany and Silverton, Oregon engage in regular contracts to clean foliage during fall and keep their lawns and landscape clear of debris. We always recommend professional cleanup services instead of DIY because professionals can help you avoid a number of problems.
Why Choose Professional Service?
Time – Leaf cleanup is a time-consuming and exhausting task. You'll be forced to give up an entire Saturday or Sunday morning to clean, collect, and dispose of all the foliage from your backyard. If you have a large property, you might have to spend the entire day on it. If you hire us for the job, you can just sit back and relax while our cleaners handle the job.
Equipment – Most property owners have to use rakes and hand tools to clear the leaves. We use leaf blowers, walk-behind blowers so we can clean the foliage quickly and efficiently. We can finish a small yard within an hour and a big one in a couple or few of hours. Manual cleaning would take much longer and wouldn't be nearly as efficient.
Removal – We don't just clear the leaves; we also remove them from your property. They won't sit in some corner of your yard and decompose as we'll carry them in our trailers and trucks to an appropriate disposal site.
Great for Elderly – Foliage cleanup is a physically exhausting task and can be a nightmare for your back. While young, physically able people might be able to manage the labor, people with disabilities and the elderly will only strain themselves. When you hire a professional service, you won't have to deal with exhaustion, back pain, and dehydration that this activity can cause.
Why Do You Need to Clean Leaves?
Many people assume that foliage can be great fertilizers for the soil but that's not entirely true. Here are some reasons why you need to hire a professional leaf cleaning service:
A lot of leaves can block sunlight and reduce water evaporation. This can cause problems like fungus, disease, and mold.
The lack of sunlight and the pressure from the leaves can kill grass and destroy the quality of the soil.
Any plant diseases present in the foliage will sink into the soil and return to the plant again after the leaves decompose. This would damage your plants and spread the diseases to other healthy plants in your lawn and gardens.
Leaf cleanups is part of our landscape maintenance program, but you can request one-time leaf cleanups.
If you want to know more about our leaf cleanup services, don't hesitate to contact us at Greenworks Landcare at 503.303.8368. We'll be happy to help in every way possible.