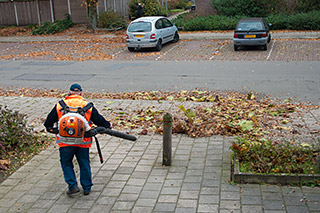 It can be difficult to keep the outdoor areas of your property clean during the fall season, especially if you have large trees, shrubs, and plants on your property. The dried leaves, dust, and other such debris can fall on the hardscapes and make your backyard look unkempt and messy. You can take a broom or rake and try to clean the leaves yourself but it makes more sense to hire a professional and we can help.
At Greenworks Landcare, we have carried out hardscape cleaning jobs in Salem, Keizer, Dallas, Independence, and Monmouth. Our company has also cleared yards and landscapes of properties in Corvallis, Albany and Silverton, Oregon. If you want to remove all leaves and debris from your hard surfaces quickly and efficiently, you should give us a call.
Our power blowing service is part of our landscape maintenance program.
If you want to know more about our landscape maintenance programs, don't hesitate to contact us at Greenworks Landcare at 503.303.8368. We'll be happy to help in every way possible.