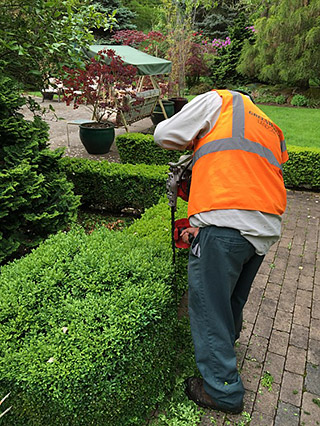 The shrubs and trees on your property might not need as much care and maintenance as the grass on your lawns, but they do need some care and attention. If you allow them to grow wild, they can easily cause damage and be a hindrance. At Greenworks Landcare, we have done pruning and trimming on a lot of properties in Salem, Keizer, Dallas, Independence, and Monmouth.
We have also worked on pruning projects for clients in Corvallis, Albany and Silverton, Oregon. With our help, you can be sure your shrubs are under control and your trees are out of the way.
Why Do You Need Professionals for Pruning and Trimming?
Some people are content to let the trees and shrubs on their property grow wild. They don't bother trimming the branches or pruning the hedges and that can lead to inconveniences down the line. Here are some reasons why you should hire us for pruning and trimming:
Look and Design of the Plants – We're experienced pruners and can expertly trim the trees and shrubs into a particular shape. For example, if you want neat square hedges, just let our expert technicians know and they'll do the job efficiently.
No Excessive Pruning – Excessive pruning and trimming can damage the plants and shrubs. Our expert landscapers will consider the shrub carefully and determine just how much it needs to be pruned before they do the job.
Safety – Our experts will be clad in protective gear and have harness support when they trim some of the taller tree/hedges on your property. We'll also make sure the cut branches don't fall on anyone or cause damage to your property after they're removed.
Time – Pruning and trimming can be time-consuming and exhausting. Why waste your time and energy when you can simply hire a professional to handle the task for you? Our experienced professionals have done trimming and pruning often so they know the process like the back of their hand and can clear your entire landscape in a matter of hours.
Factors We Consider
Pruning and trimming are an essential part of landscape maintenance and we take it very seriously. Here are some factors we consider during the task:
We focus on directing tree and shrub growth to ensure they remain healthy and continue to grow at a steady pace for a long time.
We trim and prune carefully to promote flowering in flower and fruit plants. These plants require special care and attention.
Our experts will consider the time and season to prune carefully. It's important to prune when your trees and shrubs are strongest to ensure they survive the process easily.
If you want to know more about our landscape maintenance programs or small tree/shrub pruning, don't hesitate to contact us at Greenworks Landcare at 503.303.8368. We'll be happy to help in every way possible.