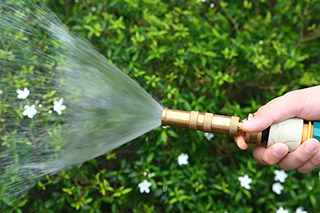 We don't install or repair sprinklers systems.
We know how they work and what kind of settings turf grass would require. We have carried out such adjustments on properties in Corvallis, Albany and Silverton, Oregon. Sometimes, a simple sprinkler adjustment is enough to bring life back to a dull, drying lawn.
Sprinkler systems disperse water evenly across the lawn and ensure the turf gets enough to thrive. The system is carefully calibrated to deliver just the right amount of water to encourage growth but sometimes the settings aren't right and need to be adjusted. We can help you with that. At Green works Landcare, we have helped adjust sprinkler systems on properties in Salem, Keizer, Dallas, Independence, and Monmouth.
How Can We Help?
We know most sprinkler systems like the back of our hand and are very familiar with the adjustment techniques. We're also very familiar with different grass species and can alter the sprinkler settings according to the requirements. Here's how we can help:
Inspection – We'll first inspect how your sprinkler system works and how it disperses water. That would allow us to see what kind of adjustments your system needs. We'll check if any area receives excess water and look for any dry patches. Once we've completed the lawn inspection, we'll look at the current settings of the sprinkler and make a note.
Kind of Sprinkler – Our next step is to determine what kind of sprinkler system you have. Different sprinklers require different kinds of adjustment techniques and wrong adjustment techniques can damage the sprinkler head.
Adjustment – Once we have all the information we need about the system, we'll move on to the sprinkler adjustment. With pop-up sprinklers, we keep the system switched on and adjust it by turning the entire head in the direction you need. We'll then turn the adjustment screw to adjust the spray pattern. We can also change the angle of the spray by adjusting the head.
Our experienced technicians will carefully examine the entire sprinkler system and make sure it disperses water well before we consider our job done.
Sprinklers adjustments & monitoring is part of our landscape maintenance programs. If you want to know more about our sprinkler adjustment or landscape maintenance programs, don't hesitate to contact us at Greenworks Landcare at 503.303.8368. We'll be happy to help in every way possible.