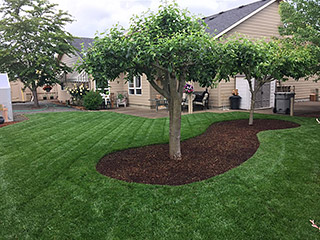 Landscapes require regular maintenance and care to thrive. Unfortunately, most property owners just don't have the time to handle landscape maintenance and management. At Greenworks Landcare, we maintain over 175 weekly services accounts with property owners in Salem, Keizer, Dallas, Independence, and Monmouth.
We've also worked with and maintained accounts in Corvallis, Albany and Silverton, Oregon. Our weekly contracts are very flexible, affordable, and efficient so you won't have to worry about the condition of your landscape. It would be always presentable.
Commercial
We've been a part of the landscaping industry for a very long time and know the different requirements of commercial and residential properties. Our commercial weekly contracts include everything you might need to ensure your commercial property is ready for your customers and business associates. We offer just one plan for our commercial property owners; it's very comprehensive and includes:
Weekly service and visits
Mowing Lawn/Turf areas
Hard and Soft Edging
Shrub Pruning and Small Tree Pruning
Weed Control (lawn, bed areas)
Pre- and Post-Emergent Applications
Landscape Bed Care
Turf and Shrub Fertilization
Cranefly Treatment (lawn)
Leaf Cleanup
Sprinklers Adjustments
Yard Debris and Trash Offsite
Power Blow Hard Surface
As you can see, our commercial landscape maintenance service includes everything you might need for your landscape.
Residential
Many people are a little neglectful of the lawns and gardens in their home. They don't have the time or the skill to maintain their landscape well and ensure it looks beautiful. We offer two different residential programs that you can choose according to your convenience. If you don't know how to decide, all you need to do is give us a call and explain your requirements to our customer care representatives. They'll recommend the right plan for you based on your requirements. Here's a brief look at the two plans we offer:
Standard Maintenance Includes:
Weekly Service
Mowing Lawn/Turf areas
Hard and Soft Edging
Weed Control (lawn, bed areas)
Landscape Bed Care
Lawn Fertilization
Some Shrub Pruning
Sprinklers Adjustments
Yard Debris Offsite
Power Blow Hard Surface
This plan is sufficient for most homes because it covers almost everything your lawn needs. If you want to save some money and still get the maintenance your landscape needs, you can hire us to handle the job.
Full Maintenance Includes:
Our full maintenance program includes all of the above-mentioned services along with few other added ones including:
Shrub Fertilization
Lime Application (lawn)
Cranefly Treatment (lawn)
Moss Control (lawn)
More Pruning
Perennial Care (deadhead & dormant pruning)
Groundcover Shering
If you want to know more about our landscape maintenance programs, don't hesitate to contact us at Greenworks Landcare at 503.303.8368. We'll be happy to help in every way possible.