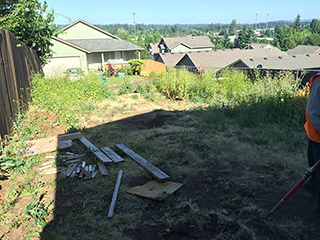 Yard debris and small trash can mar the beauty of your property and invite pests so it's important to clean it as soon as possible. While most people can clear the debris themselves, they don't usually have the ability to transport the trash to an approved location for disposal; we can help you with that.
At Greenworks Landcare, we have carried out several trash off-site removals in Salem, Keizer, Dallas, Independence, and Monmouth. We have also cleared yards and landscapes of several properties in Corvallis, Albany and Silverton, and Oregon. Our services are organized and systematic so we can handle all kinds of loads.
One-Time Cleanup Services
We can clean up the debris so if you don't want to clean your backyard or property yourself, you can ask our experts for help. They'll arrive at your location to understand the scope of the project and arrange the yard debris cleanup accordingly. This is our most popular service during spring and fall. We can do a variety of cleanups, including:
Ivy removal cleanups
Blackberry cleanups
Yard cleanups
Landscape beds cleanups
Brush cutting cleanups
Field and lot mowing
We can collect all of the debris generated by this cleanup and transport it to an approved disposal site. If you're worried about trash and debris accumulating in your backyard, just give us a call and we'll handle the problem for you. This service is included in our landscape maintenance program. We will haul away all yard clippings and small trash will be dispose on your garage containers/carts. (Please note, we aren't a trash company, we will not haul away garbage bags, large items, etc.)
If you want to know more about our yard debris disposal, don't hesitate to contact us at Greenworks Landcare at 503.303.8368. We'll be happy to help in every way possible.